If you are seeking an alternative method for installing and registering IPA files on your device without relying on AltServer, SideStore could potentially be the answer you are looking for.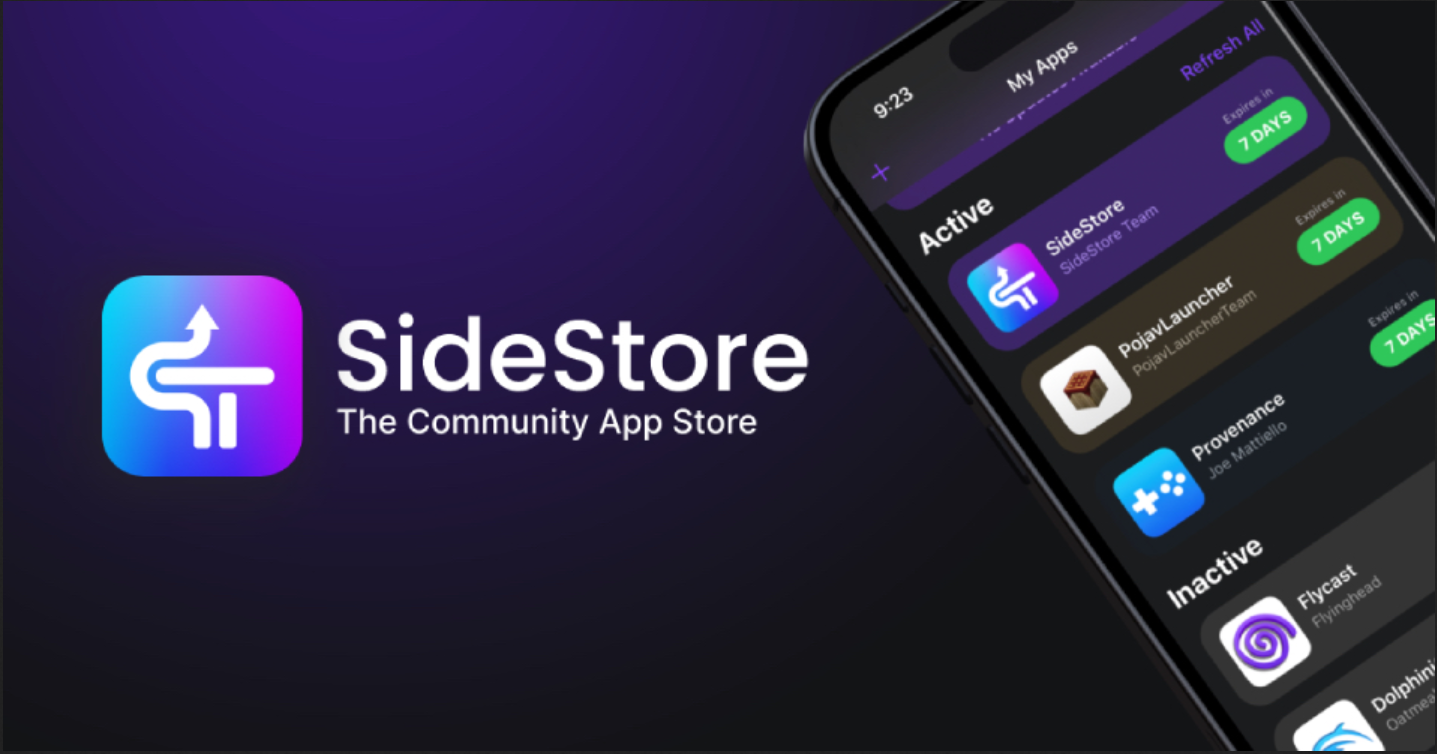 Check out this article to know about an alternative to SideStore: TrollStore – Best Permanent IPA Installer on iOS [#OFFICIAL].
What is a Sidestore?
SideStore is a user-friendly iOS application designed to streamline the procedure of sideloading apps onto the device you're using.  It utilizes your personal development certificate to re-sign the applications and employs a customized VPN to deceive iOS into installing them. They provide support for every device running iOS 14 to iOS 16.
SideStore is an app that serves as a replica of AltStore, providing users with the same characteristics and efficiency.  If you have used AltStore before, you will find it easy to navigate SideStore. Features included in the IPA installer include a news feed, instructions for installing third-party programs from IPAs (Sources), an app certificate manager, automatic app updates, an error report, etc.
Features SideStore IPA Installer :
SideStore will perform a background update on your applications to keep them from expiring before the standard 7-day development time.
Freedom from the standard three-app restriction to disable and switch between installed applications (up to a maximum of ten). This implies that with a single free certificate, you may add and remove up to ten applications from your iOS device.
SideStore makes it simple to upload and install IPA files to your iPhone via Wi-Fi using your Apple ID.
The issue of premature termination has been addressed by using a new and better approach. This improved method now automatically launches Safari to finish updating SideStore.
SideStore has fixed the problem where users would get a "no provisioning profile with the requested identifier" message. This patch will make creating provisioning profiles easier.
The implementation of swift-bridge refactoring has also been used to enhance the efficiency and reliability of SideStore's minimizer. Changes made to the default Anisette server have enhanced its general functioning and made it easier to use.
The new Anisette V3 version of SideStore is a significant improvement over the previous version. This update improves reliability and security by preventing locking more effectively and fixing other problems with Anisette.
SideStore Installation Requirements:
Before you begin, ensure that you have the following items:
A personal computer that operates on either Windows, macOS, or Linux operating systems.
A device manufactured by Apple running on iOS or iPadOS 14 or a more recent version.
It is recommended to have a separate Apple ID for using Anisette servers developed by others.
Install Wireguard on your device.
How to Install and Use SideStore on iOS device – [STEPS]
STEP – 1: Download Necessary Files.
Then, Open the Safari browser and  Download the SideStore Configuration file on your device.
Download the SideStore IPA file.
   SideStore IPA      SideStore 0.3.1 IPA file       SideStore Nightly IPA        SideStore MDC v14
Next, Download Jitterbugpair for PC (Windows/Mac/Linux).
   Jitterbug for Windows       Jitterbugpair for Mac       Jitterbugpair for linux
   Visit the Releases page for More
STEP – 2: Add SideStore VPN Configurations to WireGuard.
Go to Downloads on your Safari Browser and tap on the Configuration file that you've just downloaded now, then Click on the Share button in the top-right corner.
Next, Click on the WireGuard Tunnel icon. It will open the Configuration file with WireGuard App and a popup will appear saying "WireGuard Would like to add VPN Configurations"
Then, Click on the Allow Button and Enter the Passcode of your iOS device.
STEP – 3: Generate the

UDID

file by Executing

jitterbugpair.exe

file
Connect your iOS device to your PC via a USB cable.
Extract the Jitterbugpair zip file and Open the folder (There will be 2 files in the folder).
Open the Command prompt, and drag & drop the Jitterbugpair.exe file into the Command Prompt & Hit Enter button.
You'll get an Error message on Command Prompt & popup on your iOS device asking whether to trust the Source or not. Click on the Trust button & Enter the Passcode.
Again drag & drop the Jitterbugpair.exe file into the command prompt and hit Enter.
The program will execute successfully and you can see a message with [UDID].mobiledevicepairing.
STEP – 4: Change the

UDID

file Extension.
Navigate to C:\Users\<USER NAME> on your Windows PC, you can see a [UDID] file with the .mobiledevicepairing extension.
Drag the file to Desktop and Rename the file to [UDID].plist (Just change the file extension).
STEP – 5: Share the

[UDID].plist

file to your iOS device.
Then upload the [UDID].plist file to iCloud, download & save it to your iOS device (You can any other file-sharing app ).
STEP – 6: Install SideStore IPA file on your iOS Device.
Install and open AltServer from the AltStore.
Set up Mail Plugin (this is only for Mac):
To be able to work properly for Mac users you need to set up a mail plugin.
 install SideStore IPA which is for  iOS
Sideload the SideStore IPA:
macOS: press from the keyboard the option/alt key and press on the AltServer icon. From that menu, choose"Sideload ipa" and afterward the SideStore IPA file.
Windows: press shift and select the AltServer icon. From the choices that are available there, choose "Sideload ipa" and then select later the SideStore IPA file.
Install SideStore IPA Signer via SideServer(Mac)
Install Sideserver on your Mac
Then connect your ios gadget to the Mac either by cable or wifi
go to SideServer and press "download Side Store" from the menu bar
Then after finishing the installation process as given by SideServer.
In your gadget go to settings- general- VPN device management and approve the developer app
launch the SideStore app on the device and sign in with your Apple ID.
STEP – 7: Trust the Developer profile.
Navigate to Settings > General > VPN & Device Management.
Tap on your E-mail ID and Click on the Trust button.
STEP – 8: Add Pairing File to SideStore.
Now Open the SideStore app on your iOS device. Allow Notifications, it will ask you to select the Pairing file. Click on OK and tap on [UDID].plist file. The UDID file will be imported Successfully.
STEP – 9: Add Anisette URL:
Create Your Own Anisette Server
Go to https://dashboard.render.com/register and register for an account.
Click on the "New Web Service" button.
Then in the "Public Git Repository" field, type this URL.
https://github.com/Dadoum/Provision.git
Then press "Continue" and follow the given instructions.
Give a name for the service and select a region.
Go to the bottom and press "Create Web Service."
Wait for the build to be finished.
Select "Manual Deploy"  and  "Deploy the latest commit".
Once the build is finished, see if your service is working.
Configure Sidestore to your Custom Anisette server
Navigate to Settings> SideStore, and tap on the Anisette URL field.
STEP – 10: Sign in to SideStore using your Apple Credentials.
Open SideStore App and Go to Settings, Then tap on Sign in with Apple ID field & Enter your Apple Credentials and tap on Sign In. That's all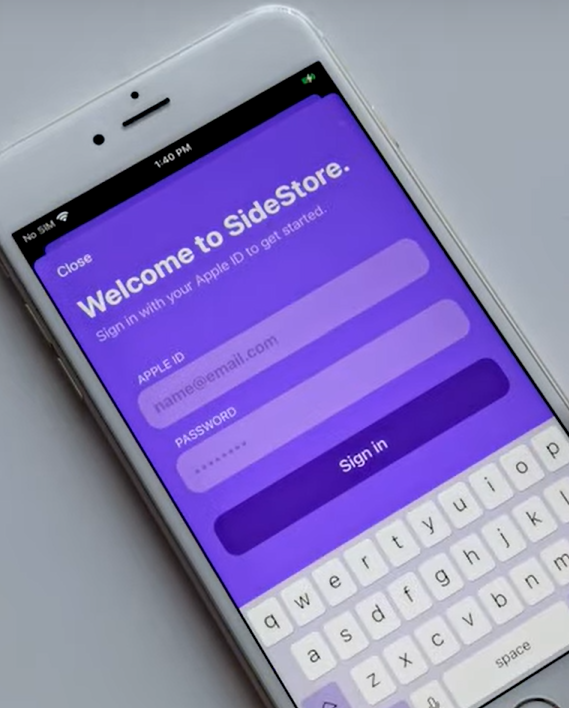 Now you are all set to Sideload IPA files using SideStore.
How To Sideload/Install IPA files using SideStore
Open the WireGuard VPN App & Toggle ON SideStore.
Open SideStore Go to MyApps Section and tap on the + icon in the top-left corner.
A list of Available IPA files will be shown. Tap on the IPA file that you want to Sideload into your iOS device.
In case the sideloading IPA file has any extra features included in it, it will ask you whether to Keep App Extensions or Remove App Extensions. (Mostly they will be Ad-Block libraries).
Tap on your choice of selection. The app will be installed on your device in a few seconds.
You can start using the app soon after installation.
Now you can Toggle OFF SideStore on the WireGuard VPN app.
Alternatives to SideStore – Detailed Guides
Download Esign IPA Installer for iPhone – IPA Signer FREE
Download EonHub Installer (Apps & Games Store for iPhone) – FREE
Download Scarlet App (IPA Installer) on iPhone – Sideload IPAs for FREE
Frequently Asked Questions – FAQs
Q - 1. Is sidestore safe to use ?
Yes it is 100% safe to use
Q - What is Sidestore?
SideStore is an iOS application that streamlines the procedure of sideloading apps onto the gadget.
Q - What is the coolest feature of Sidestore?
SideStore will perform a background update on your applications to keep them from expiring before the standard 7-day development time.
Q - Is it possible for me to activate JIT?
Yes! To activate JIT, you can use the SideStore app.
Q - When is the expected release date for SideStore?
SideStore is set to launch in the near future, offering a wide range of popular apps for users to enjoy.
Q - Is it possible to sideload apps using SideStore?
Yes, it is one of the main features of Sidestore.
Q - I am unable to establish an internet connection while the VPN is active. What should I do?
Make sure that you do not have a different DNS configured in both your Wi-Fi and WireGuard settings.
Q - Does the VPN track my online activities?
No, it will not. The VPN feature of SideStore does not track your online activities because it does not use any remote servers.
Q - Should I update my app to support SideStore?
No, there is no need to specifically update your app for SideStore.
Q - Is it possible to have more than three apps signed and active?
No, you are not able to. The limitation is determined by iOS and your developer account.
Q - I am a developer. How will this impact me?
SideStore does not directly impact you as a developer.
Conclusion – SideStore IPA Installer for iOS
I hope this article gave you enough information about the SideStore IPA installer. The aim of this post is to provide information on How to Install SideStore on your iOS device & How to Sideload IPA files into your iDevice using SideStore. Please help us improve this article with your valuable feedback.
Thank You.