We all reach out to YouTube whenever we wish to see the latest trailers and watch video songs. Often we end up casually browsing the video content available on YouTube. YouTube is an immensely powerful application; however, certain features are not present in the original application that could have made the application brawnier. Check out MovieBox Pro for Unlimited Entertainment: MovieBox Pro VIP FREE iOS Download on (iPhone & iPad) – [LATEST]
To download YouTube++, you require to install TutuApp on your iOS device. TutuApp is a third-party App Store through which you can download hacked, modified, and tweaked iOS applications for free on iPhone/iPad.
The coolest thing about TutuApp is that you don't require jailbreaking your iOS device for installation. We understand you must be eager to download YouTube++ on your iOS device. However, before we proceed to that, check out the exciting features of the YouTube application.
 Features YouTube++ on iOS | TutuApp
Features like downloading videos to local storage, blocking ads, and playing audio/video in the background are not available in the regular YouTube application. If you wish to acquire these features, you require download YouTube++, which is a tweaked version of the original YouTube application. YouTube++ contains all the features that are present in the original YouTube application. Apart from those, a few additional features don't exist in the standard application.
Block advertisements (Both Sponsered Ads and Video Ads).
Auto-replay videos.
Remove age restrictions.
Customize the number of seconds in forwarding/rewind controls.
Set Default Playback Quality.
Play audio for downloaded videos.
Download videos to local storage.
Play audio/video in the background.
Added In-App Web Browser Support.
Set Default main Page other than Home Page.
Remove the Upload Button from the Home Page.
Added Speed Controls so that you can watch videos at 0.5 to 2x speed.
Download Videos in 1080p Quality.
Set your own Download Quality.
You will agree with us that these features, indeed, make YouTube++ a must-download tweaked application. The following steps are required for downloading and installing YouTube++ on iPhone/iPad. Download CineHub for Latest Movies and Series(FREE): Download CineHub App on iOS (iPhone/iPad) [Latest]
More Information about YouTube++  on iOS (TUTUAPP)
| | |
| --- | --- |
| Name | YouTube++ |
| Category | Social Media (Tweak) |
| Developer | qnblackcat |
| Version | v18.14.1-3.0 |
| Size | 118 MB |
| OS Required | iOS 11.0 or Later |
| Device Compatibility | iPhone/iPad/iPod Touch |
| Age Limit | Everyone |
| Language | All Languages |
| Price | Free |
| Downloads | 10000000+ |
Install YouTube++ on iPhone/iPad from TutuApp  [No Jailbreak]
Direct Links to Download YouTube++ on iOS:
Trust the profile of TutuApp.
Launch TutuApp and search for YouTube++.
YouTube++ will come up in the search results.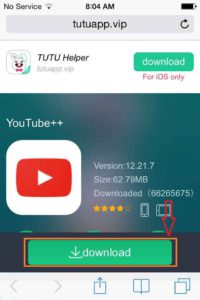 Tap on the application icon to navigate to the application information screen. Here you can get all the information on YouTube++.
Tap on 'Install' or 'Get' to initiate the download and installation process of YouTube++.
The profile installation screen will come up. Install and verify the profile of YouTube++.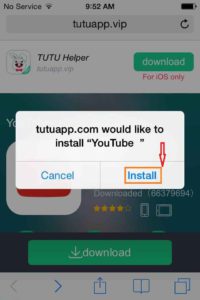 Locate the application icon on your iOS device's home screen.
Launch and enjoy it!
Install YouTube++ on iPhone/iPad using Scarlet App
First of all, Download and Install Scarlet App on your iOS device using a PC to Sideload IPA files, To know how to do this visit the link given below.
   Download & Install Scarlet App from Here
Now Download the YouTube++ IPA file on your iOS device. Download the link given below.
   Download The YouTube++ IPA file
Open the Scarlet app on your iOS device and tap on the Import button in the top-right corner.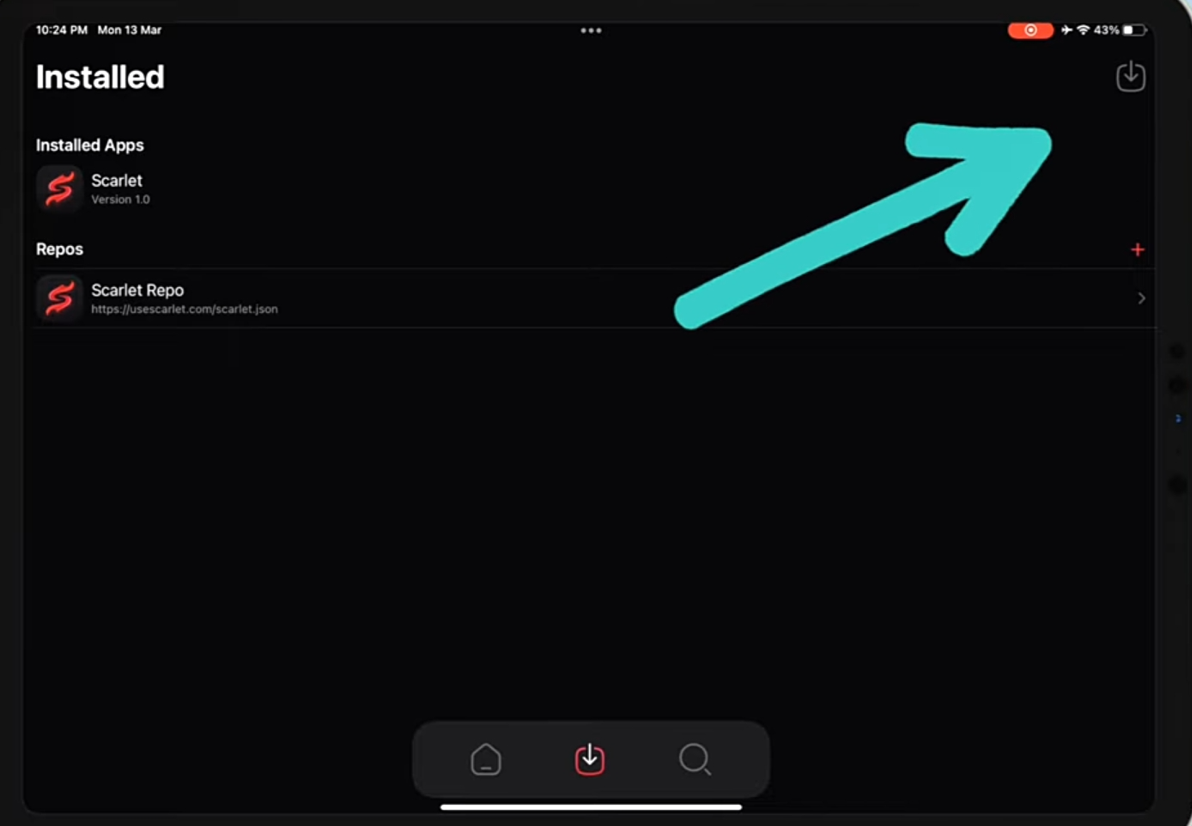 You'll see the list of available IPA files on your iOS device.
Tap on the YouTube++ IPA file.
You can see the progress of the IPA file being imported into the Scarlet app.
After the app is successfully Imported into the Scarlet app, You'll get an Installation prompt.
Tap on the Install button.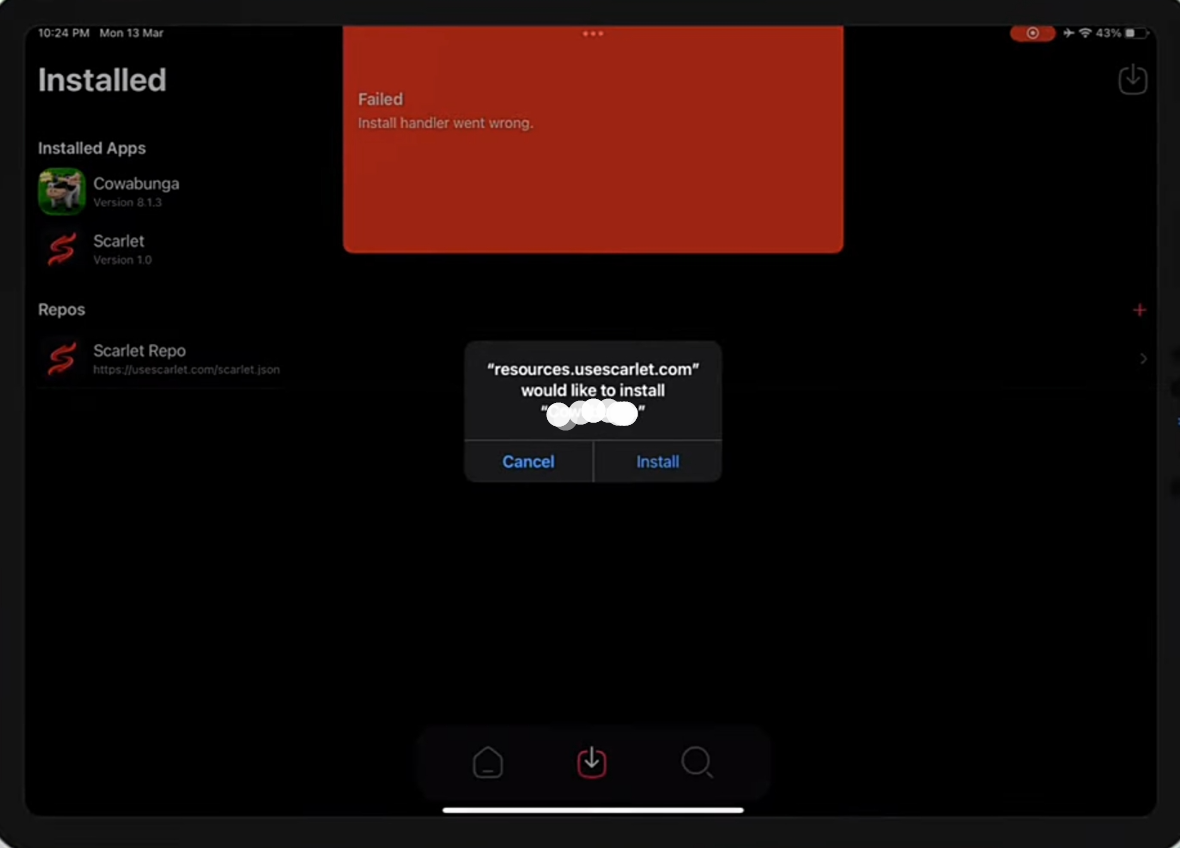 Then you'll be automatically redirected to Home Screen and You can see the app's Installation progress.
After the App is Successfully installed, Go to Settings > General > VPN & Device Management on your iOS device and Trust the YouTube++ App's Profile.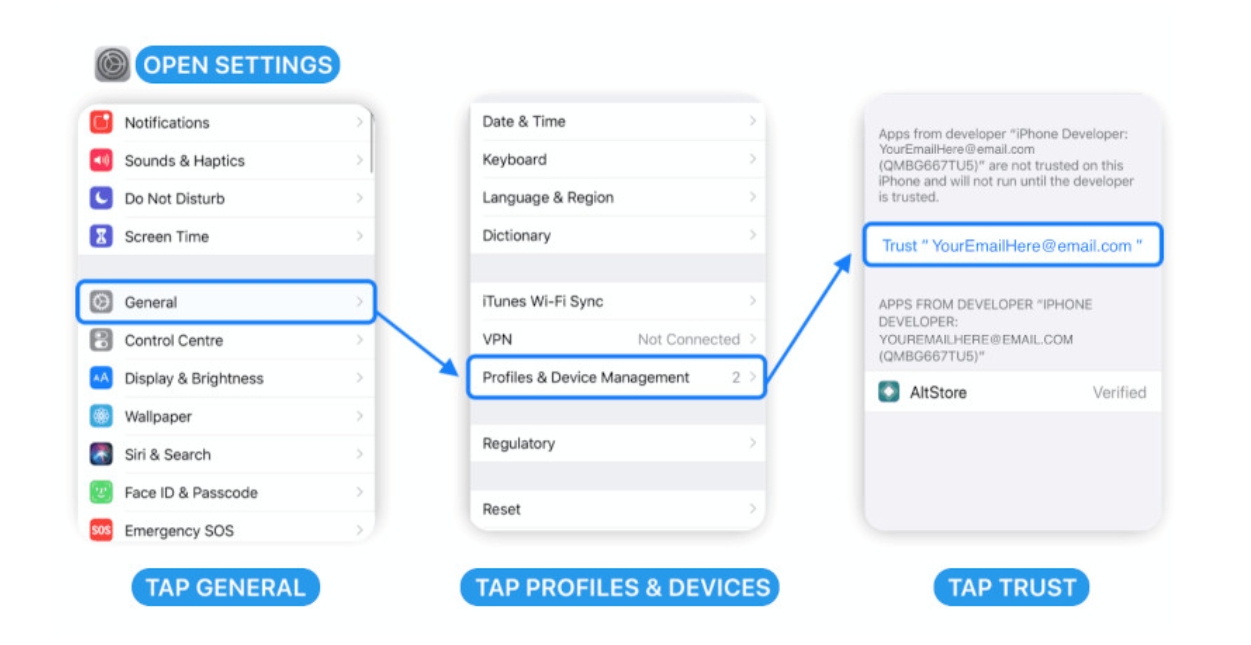 Now you can Browse YouTube using YouTube++ with all the extra features.
How To Uninstall YouTube++ on iOS
If you want to uninstall YouTube++ from your iPhone or iPad running iOS, follow these steps:
Open the Settings app and tap "

General

."

Select "

iPhone Storage

" and locate 

YouTube++

in the list.

Tap the "YouTube" icon, then select "

Delete App

."

Confirm you want to delete the app by tapping "

Delete App

" again in the popup window.
After deleting YouTube from your iOS device, any stored data will no longer be available. You can download the regular version from the App Store.
Best YouTube++ Alternatives on iOS
YouTube is one such platform that allows you to stream videos. You can upload your content and gather followers. But due to many reasons, people look for alternatives to YouTube. Here are the best ones:

Facebook is one such old application that everyone trusts blindly. It has the same streaming feature as YouTube. The only reason behind it is unique to YouTube is its social platform features.
Twitch
Twitch was mainly made for gaming purposes. People love using Twitch and watching various gamers around the world. So, if you are starting your gaming career or want to stream amazing content, go to Twitch on the go.
TikTok

TikTok allows you to upload one-minute length videos with fans and followers. You can use a wide range of filters to share your acting skills. It will enable you to use trending movie filters to qualify your skills and talent. People can share their comments and help you become famous.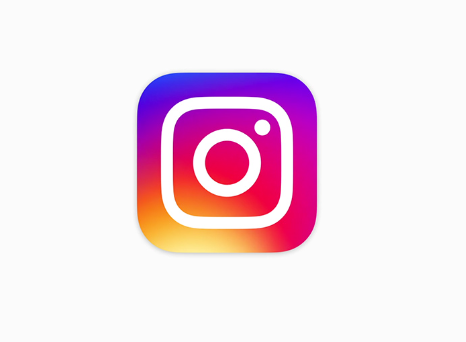 Instagram is an application that allows you to live stream and share media content. The modern generation loves to watch content all over. So, to satisfy your media sharing quality at the time.
YouTube++ | Frequently Asked Questions – FAQ
Q - What does YouTube++ provide?
It provides you with great videos to watch and download. It is free and provides you with all the features of the Premium version of YouTube. You can even convert the videos into mp3 and share them with many different platforms using this.
Q - Can you download videos to the iDevice from YouTube++?
Yes, you can download videos to the camera roll directly from YouTube++ safely and without any fee.
Q - Is YouTube++ free to download?
Of course, yes. You can enjoy unlimited video content, download, and share them to your device for free with YouTube++ on iOS.
Q - Does the warranty get void on downloading YouTube++ on iOS?
No, YouTube++ is a modded app; however, it does not break any rules or policies of the Apple system. Hence, the iOS warranty will not get void by downloading YouTube++ on your iDevices. There is no need to jailbreak the device as well.
Q - What are the compatible iOS versions for YouTube++
YouTube++ can be used on almost all devices from iOS 7.0 to iOS 16. But it would be good if your device is running on iOS 11.0 or Later. iPhone/iPad/iPod Touch almost all devices support YouTube++
Q - Is it Safe to Install YouTube++ on my iDevice?
Yes, It doesn't pose any threats to your privacy since it comes with ad-blocking extensions pre-installed. When it comes to security, though there are no reports about security problems, you should install it at your own risk. Remember to download IPA file from the official website or reputed sources.
Q - Will my account get banned if I use YouTube++?
Ad-Blocking software is everywhere these days. People use them on PCs and Mobiles like never before. So just for Ad-Blocking, you'll not get banned for sure. If you use this app to commit any misdeeds that violate YouTubes Policy, You may get banned for sure.
Q - Do I have to Jailbreak my Phone to use YouTube++?
No need to Jailbreak your iOS device just to install a third-party app. These days it is very common to sideload apps into iPhones using IPA Installers like AltStore, Scarlet etc... You can try using Scarlet.
Check out:
uYouPlus –iPhone FREE No Jailbreak.
Cercube 5 for YouTube iOS – [PREMIUM MOD].
CloudStream App Free on iOS(iPhone & iPad).
Conclusion – Download YouTube++ using TutuApp
These were the features and the steps to download and install YouTube++ on iPhone/iPad. For any issues you might face during the installation or usage of the application, let us know about the same in the comments section provided below. We will help you out on a priority basis.
Thank You.