WhatsApp is the most installed messenger in the world right now. Millions of people are using WhatsApp to send messages, images, and videos for free over the internet. It is loved because of its unique features. WhatsApp also has some restrictions which can be bypassed using a WhatsApp mod. One such mod is this WhatsApp Watusi on iOS. Mods are mostly used to get extra features or fix an existing feature. 
Features in WhatsApp are limited. For example, you cannot download the WhatsApp status of other people. But with the mods like Watusi, you can download other people's statuses to your mobile phone. But using a mod for WhatsApp might get you banned.
So it is advised to use the normal version of WhatsApp. If you are still wanting to try the mod then here are the steps to download and install WhatsApp Watusi on iOS using TuTuApp. Check out: Tinder++ Download on iOS (iPhone/iPad) .
WhatsApp Watusi | Features:
Most of the restrictions in the official WhatsApp version are removed in this WhatsApp Watusi mod. Here are some of the features which will intrigue you to install and try the mod once.
Last seen freezing:

In the original version you can either set last seen which works normally or you can hide them completely. But in this WhatsApp Watusi mod, you can freeze the last seen so that others might think you haven't visited after that time. But you can keep visiting without revealing your presence.

Auto Reply:

You can set Auto Reply for your WhatsApp just like the email account. If you are not online then you can set auto greetings messages for the people you send you messages.

View all groups on a single screen:

If you like to sort and view all the groups that you are in then you can do it with this mod.

Increase Delete for Everyone's time:

In the original WhatsApp, the time to delete a message for everyone is very limited. But with this mod, you can increase that time so that you can delete the message for all even after the default time limit is crossed.

Confirmation box before video/voice call:

You will get a confirmation box that requires you to confirm before you call someone.
WhatsApp Watusi App Info:
| | |
| --- | --- |
| App Name | WhatsApp Watusi |
| App Size | 76.62MB |
| Seller | Device Rebel |
| Version | v22.1.73 |
| Category | Tweaked Apps & Games |
| License Type | Free |
| Language | English |
| Compatibility | iOS 7 & Later (iPhone, iPad, & iPod Touch) |
| Ratings | 5/5 |
| Downloads | 1000000+ |
Along with this, there are some other features like Forwarding indicator disable, Setting custom ringtones, text colour customization, and view deleted messages. Passionate Singers should check this out – Smule VIP Pro for FREE (VIP MOD Unlocked) on iOS.
Install WhatsApp Watusi on iOS (iPhone/iPad)
Since the Latest WhatsApp Watusi is not available in the app store for Apple devices for obvious reasons, the only way to install them is to use a third-party app. Here we are going to use the TuTuApp.
Using an iDevice, download the TuTuApp from the below-given link:
TuTuApp Lite (Stable Version):
After downloading the TuTuApp, go to the phone settings.
On the settings page, choose General Settings. In General Settings, you can see an option called Device Management.
In Device Management, the list of apps on the phone is listed. Near to the TuTuApp, you can see a button called "Trust TuTuApp".

Click on the button. Now open the TuTuApp.

On the TuTuApp homepage, you can see a search bar. In the search bar, type "WhatsApp Watusi".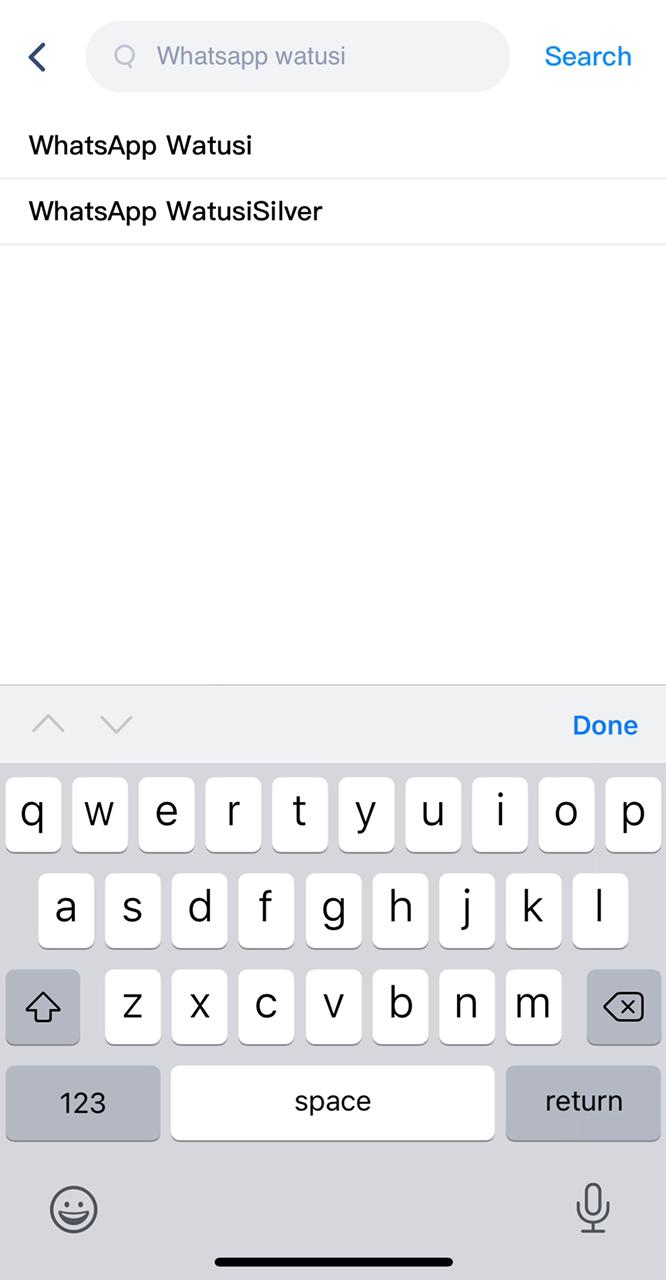 In the results click on the WhatsApp Watusi app to install it.
Once installed, you have to follow the same procedure you followed for TuTuApp. Go to phone settings, then General Settings. There choose Device Management. Then click on the Trust "WhatsApp Watusi".
Now open the WhatsApp Watusi app to enjoy its new features.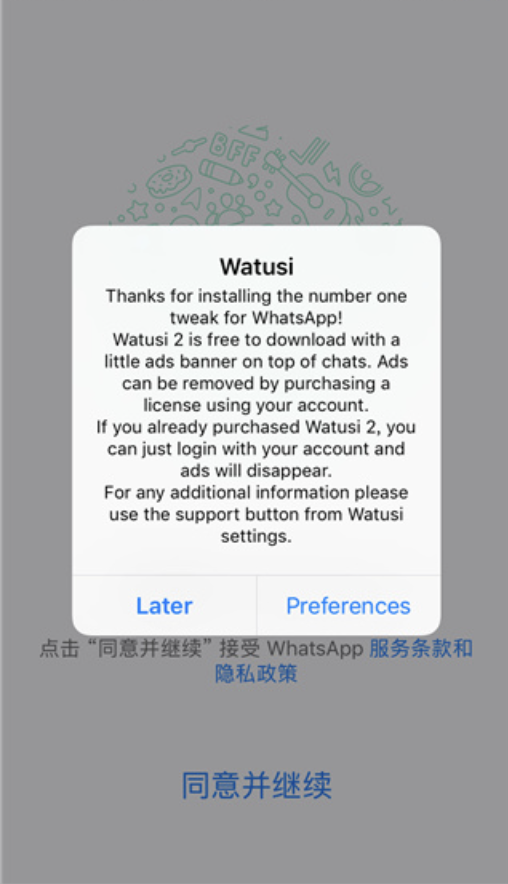 You should check this –
KineMaster Premium MOD (Pro for Free) on iOS
[How-To] Uninstall WhatsApp Watusi iOS [iPhone/iPad]
Uninstalling WhatsApp Watusi from iOS is a simple task. We have elaborated two methods below for this task.
Way 1
Simply, do a long-tap on the icon of WhatsApp Watusi on your iOS device's home screen and click on Remove App > Delete App > Delete on the windows that follow.
Way 2
Go to Settings > General > VPN & Device Management and tap on the profile of WhatsApp Watusi. Click on Remove Profile and provide your confirmation for the same. This will also remove WhatsApp Watusi in its entirety from your iOS device.
Best Alternatives of WhatsApp Watusi on iOS
Any social media freak will be aware of WhatsApp Watusi. The application has provided a very keen communication aid to users around the world. People seek towards WhatsApp for all their communication needs and this is why WhatsApp becomes much re-known. Let's look at some amazing alternatives of WhatsApp Watusi right away.
WhatsApp Aero
WhatsApp Aero is available for Android users. The major feature of WhatsApp Aero is anti-ban which makes it extremely popular. Rest, the features are quite similar to other WhatsApp MODs like hide blue ticks, hide delivery ticks, auto-message, anti-delete that prevents the chat to delete from your side even if the other person deletes, and more. In addition, this WhatsApp MOD has its own widget as well.
WhatsApp++
WhatsApp++ is the tweaked version of the original WhatsApp and has more privacy-focused features. You can hide read receipts, hide delivery receipts, hide your online status, and even hide then typing indicator. In addition, you can set up a DP without having to crop the same and send unlimited media files.
Instagram
Even though Instagram is just a media sharing application, many users feel comfortable to use it for messages. The user-interface is catchy and it brings much comforting to people than any other application.
SnapChat
This amazing application that was made for privacy has been one of the most used application in the current times. If you are looking for something new and trending, then SnapChat is the best alternative of WhatsApp that you are looking up for. The messages disappears after seconds of reading them (depending on your settings).
Messenger
Well, Messenger by Facebook has been one of the most demanding application in the recent times. People like the interface that it pops up, and if you use it on phone, then the bubble head is just amazing.
Telegram
Every application needs a competitor. Telegram brings up all the features that mostly WhatsApp restrict. So you can proceed using Telegram to explore them at one go. The application is easy to use and have amazing user-base.
Signal
As people explore applications for their daily use, they understand the use of each application. Signal has taken up trend in the recent times and fame of been a very convenient texting application.
Frequently Asked Questions
Q - Is it safe using WhatsApp Watusi on iOS?
The application is genuine and safe for your iOS device. The concern is understandable. As you do not want to compromise your privacy or security in any manner.
Q - What is WhatsApp Watusi on iOS?
WhatsApp Watusi is a third-party developed and modified version of WhatsApp. It gives you access of features that are usually restricted on the main application.
Q - Do I need to Jailbreak my iOS device to install WhatsApp Watusi?
No, you do not need to jailbreak your iOS device. You can simply download them from third-party applications available on AppleStore. Some of the most famous applications are iOSEmus, AppValley.
Q - What extra features do I get with WhatsApp Watusi on iOS?
Some important features like reading deleted messages, scheduling messages to someone, viewing timer images, downloading status directly through application are the most important features that you get with WhatsApp Watusi Application.
Q - Does WhatsApp Watusi update itself along with the main application's updates?
No, WhatsApp Watusi do not update automatically. If there is a latest update on the main frame application of WhatsApp, you have to re-install the same version WhatsApp Watusi in your iOS device again.
Check Out:
Download WhatsApp Watusi on iOS [iPhone/iPad]
These are the steps to download and install the WhatsApp Watusi on your iOS Device using the TuTuApp. If you got any doubts then feel free to ask them in the comments below.
Thank You.