Twitter ++ for iOS devices: The Bluebird of Twitter has spread its wings around the globe. The application has millions of user worldwide, with celebrities and other famous people using it to spread their ideas, making it a common platform to interact. Twitter++ is the tweaked version of this so much used the app, with the tweaked version user get access to a whole bunch of new features that he missed out earlier in the normal version.
Now share Gif, vines, your thoughts, and ideas or DM to people with this amazing app. Twitter++ though is not available at normal iOS' app store and thus you need to get TutuApp to download it. Using this third-party app, you can get the application pretty easily. 
Also, Check out: "Instagram++ on iOS – Download on iPhone/iPad – No Jailbreak Guide".
Features of Twitter++ App
Twitter++ is all about enhanced features, over Twitter, that makes it an amazing app to have, list of some of the features is mentioned below.
Now share links and images directly from the tweets.

You can also share the tweets outside of the app.
Sharing and saving option for videos and images.
Option for YouTube integration and sharing DM's.
Removing of follows button from a tweet.
Integration with browser and Instagram is also available.
You can even go through the profile of the blocked users.


| | |
| --- | --- |
| App Name | Twitter++ |
| Category | Social Networking |
| Language | English |
| Updated Date | 25/03/2020 |
| Compatibility | iOS 10 or Later (iPhone, iPad & iPod Touch) |
| Developer | @UnlimApps |
This is not even the sophisticated list of features Twitter++ comes with, the app has got a long list of features ahead of it. Check out this complete guide on "WhatsApp++ on iOS(iPhone/iPad) – Without Jailbreak & No PC Required".
Download Twitter++ via TuTuApp on iOS
For downloading Twitter++ you need to have Tutu app installed in your iOS, follow these steps to install Twitter ++:
First of all, you need TutuApp Store, go on to your safari browser and get it to download from the internet. or You can also try it on the stable version of tutuapp called, TuTuApp Lite Stable Version.
Once downloaded, then you can go for the next step.
Now in the General settings, under settings, look for Device management and let the trust Tutu app option on.
Look for Twitter ++ in the downloaded Tutuapp store by typing Twitter++ in the search bar at the top.

Twitter++ on iOS – TuTuApp

Download Twitter++ from there and wait for the app to get the download.

Twitter Plus on iPhone and iPad – TuTuApp

Tap on Install to get the Twitter++ application on iOS devices.

Install Twitter++ App on iOS – TuTuApp

Hit on Install to get it on your home screen within seconds.

Twitter Plus on iPhone and iPad – TuTuApp

Once again similar to step 3, go to the device manager and this time turn trust on for Twitter++.
Launch Twitter++ and enjoy using the application.

Twitter Plus Plus Features
Few must check posts:
FAQ – Frequently Asked Questions
What is Twitter Plus Plus ?
Twitter++ is a tweaked version of original Twitter application. It gives you more freedom while social networking, like you can download videos, can share links outside the twitter, easy link sharing and many more.
Yes, It is completely safe application. You can use Twitter back again even if you go want to back. It gives you full freedom to do whatever you want, and it never asks you any Apple ID credentials or doesn't need to jailbreak to get it on your device.
Yes, It is legal in users point of view, but in original developers point of view, it's kinda not legal. If you still want to be in more safe zone, I would suggest you all to use any trusted VPN while using this tweaked app.
How to download videos from Twitter ?
To download photos and videos from Twitter, we highly recommend Twitter++ for your iOS devices. It's been our favorite tweaked app to download whatever I want from twitter platform.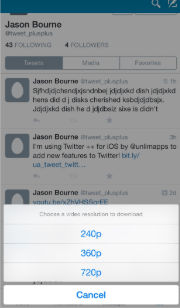 Also, check out: Kik++ Download on iOS [2020 Guide].
Conclusion: Twitter++ on iOS – TuTuApp – No Jailbreak & No PC
Twitter is already a world-renowned app, and with Twitter++ and its enhanced features, it makes the app more unique and attractive for users. The app is not available directly for download and requires a third party app store like Tutu app for download. With this article, we have discussed all this amazing app and how to get it for your iOS device. We hope this article was of quite a help to you.
Thank You.