Messenger apps have made it easy to connect with people from all parts of the world. Kik is quite a new name in the list of messenger apps for iOS. However, you may face a few limitations while using this app. In order to give enhanced features, a modded version of the app was introduced.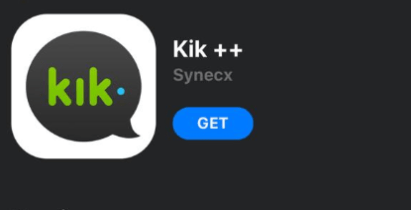 Kik++ is an amazing instant messenger that lets you chat with people without even sharing your phone number. Kik++ gives a username for its users, which you can share with anyone. You can have the best video calling experience using this app.
Kik++ is a mod and is not available in the Apple app store. You need to download Kik++ on iOS from external sources and the best one to rely on is TutuApp for iOS. You can download mods, tweaks and hacks on iOS for free using this app store alternative. The detailed procedure to download Kik++ on iOS is given in the coming sections. Must Read: Check out: Tinder++ Download on iOS (iPhone/iPad) .
Kik++ on iOS | Features
Kik++ for iOS is one of the best instant messaging apps right now. With this, you can easily connect with your contacts and friends, no matter where you are. Listed below are some features of Updated Kik++ iOS.
You can text anyone in your contacts or be a member of the Groups of your interest.
Video calls are available in the best quality.
You can connect with contacts by simply scanning the QR code.
Unlimited media files can be sent to contacts.
You can play online games too.
Online, Delivered and Read receipts can be hidden.
| | |
| --- | --- |
| App Name | KiK++ |
| App Size | 87 MB |
| Categories | Tweaked Apps |
| Version | v3.0.1 |
There are many features in the latest Kik++ for iOS that are free to access. Your privacy is also maintained while using it. Kik++ also secures your private chats with passcodes. Check Out: TuTuApp Deezer++ Download on iOS(iPhone/iPad) No Jailbreak.
Download Kik++ on iOS using TutuApp
Kik++ for iOS is the best messenger app because of the amazing user interface it offers. It is very easy to download Kik++ on iOS. All you need is TutuApp.
Go to the Safari Brower and open the provided link.
TuTuApp Lite (Stable Version):
Tap on the Install button on the home page to download TutuApp.
When it is downloaded, open the Settings and tap on the Profile & Device Management option.
Enable Trust for the TutuApp profile.
Open TutuApp and search for Kik++ app.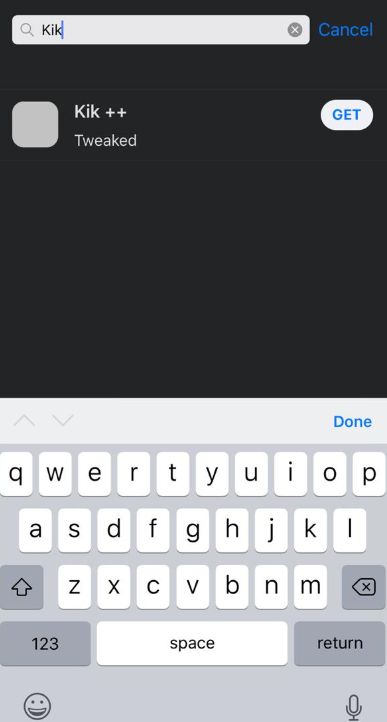 Select the app and hit the Install button to get the app.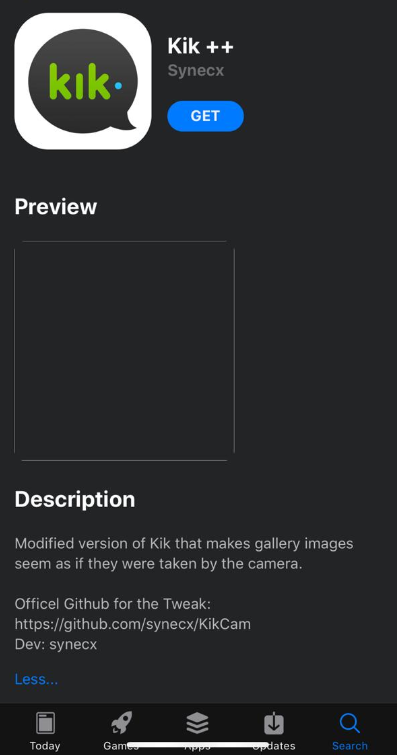 After downloading Kik++, go to Settings and take the Profile & Device Management option.
You need to tap on the Trust option for Kik++ to turn it on.
Best Kik alternatives on iOS
Kik is one of the best chatting application that you would enjoy using. It is a new way to communicate and has tons of unique features, but if still you are looking for an alternative of Kik, you are at the right place. Let's proceed by looking at some amazing options.
WhatsApp
WhatsApp is one of the oldest communicative application that you may look at. The app provides with all the features that aren't easily available. You can trust at the security encryption of this app.
Instagram
The present generation social media i.e. Instagram provides option to all the users to enjoy chatting and talking. You can proceed by catering some media to share with your friends, and chat along.
Facebook Messenger
Messenger by Facebook is indeed a quality chatting application. You can create chat head to scroll around and navigate while doing anything on your device. The app extends various features similar to Kik and much more.
SnapChat
SnapChat is unique, and it tends to put up with user privacy. People can send messages and video, and as per privacy it will disappear after seeing once. Isn't it amazing? We recommend giving it a try for sure.
Frequently Asked Questions
Q - What is Kik++ on iOS?
Kik++ is the tweaked version of the well-known application called Kik. It allows users to chat, create rooms, attend voice and videos calls, etc. The tweaked version extends a series of features that are restricted for the users on the normal application.
Q - Is Kik++ safe to use?
Yes, it is totally safe to use Kik++ on iOS, the privacy policy and other features are similar to the normal version of Kik. So, you do not have to worry about data breach and other security glitches on Kik++ app.
Q - Do we need to jail break our device to install Kik++?
No, you do not have to jail break your device to install the tweaked version of Kik i.e. Kik++. You can install the application through various websites or Alternatives stores (of apple) available.
Q - Can we use both Kik and Kik++ on same iOS device?
If you are planning to use both the versions of the application for different users, then you are good to go. But we do not recommend using both Kik and Kik++ on same iOS device as the media and other features may merge along each other.
Check Out:
Final Words: Kik++ Download on iPhone/iPad [MOD]
Kik++ gives you a whole new experience of instant messaging. The privacy settings of the app make it everyone's favourite. You can download the latest Kik++ iOS using TutuApp for free and without jailbreak. Download Kik++ and check out the amazing user interface offered by the app. You can share media files without any limitation using Kik++. It is a safe messenger app for iOS.
Thanks for Reading.