Presence on Facebook, Instagram, or other social media websites has become a norm nowadays with Facebook being the most popular of all. Speaking particularly about Facebook, there are several new and old-school tweaks that the users are requesting since long like disabling auto-play of videos, old sidebar navigation, in-app messenger, and many more. We don't know about the official Facebook app, but the third-party app Facebook++ indeed has all these features. Let us talk more on Facebook++ in this post.
Facebook++ is a tweaked or hacked version of the official Facebook app that brings in additional features no present in the official app and even removes certain restrictions thereby giving the users a phenomenal experience of the social media portal. Must check: Injustice 2 Hack Game on iOS(iPhone & iPad) No Jailbreak.
Facebook++ vs Facebook?
You might be curious to know as to what extra Facebook++ is providing that makes it better as compared to the official version. We have listed out the provisions below.
You can download videos to the local storage on your device.
You can utilize the Messenger within the Facebook++ application like the old-school days.
Apart from downloading the videos, you can also choose to copy them on the clipboard and paste them anywhere to send.
By default, the Facebook newsfeed is set to show most popular posts. However, in the tweaked version, you can default it to display most recent posts.
Get the old sidebar navigation back.
You can choose to stop the auto playback of the videos that comes up in the news feed.
On your iOS device, you can set up your bor Touch ID to prevent unauthorized access to the Facebook app.
If the above features have strengthened your thought to download Facebook++ on iOS, then continue reading below. Our favorite game out there: Clash Royale Hack Game on iOS(iPhone & iPad).
Download Facebook++ iOS on iPhone/iPad [STEPS]
You cannot get Facebook++ from the official App Store. You require accessing the services of TutuApp, which is a third-party App Store. For those who don't have TutuApp on their iOS device can check out the below-embedded link for the download and installation steps. Please note that you don't require jailbreaking your iPhone/iPad to utilize the services of TutuApp.
TuTuApp Lite (Stable Version):
Once you have installed TutuApp on iPhone/iPad, please go through the following steps to download and install Facebook++ Hack on iOS.
Download Facebook++ on iOS using TutuApp
Tap on the TutuApp icon to launch the platform.
Directly type in Facebook++ in the search bar and hit
Tap on Facebook++ from the search results to go to the installation screen.
From this screen, tap on Get or Install to initiate the installation process.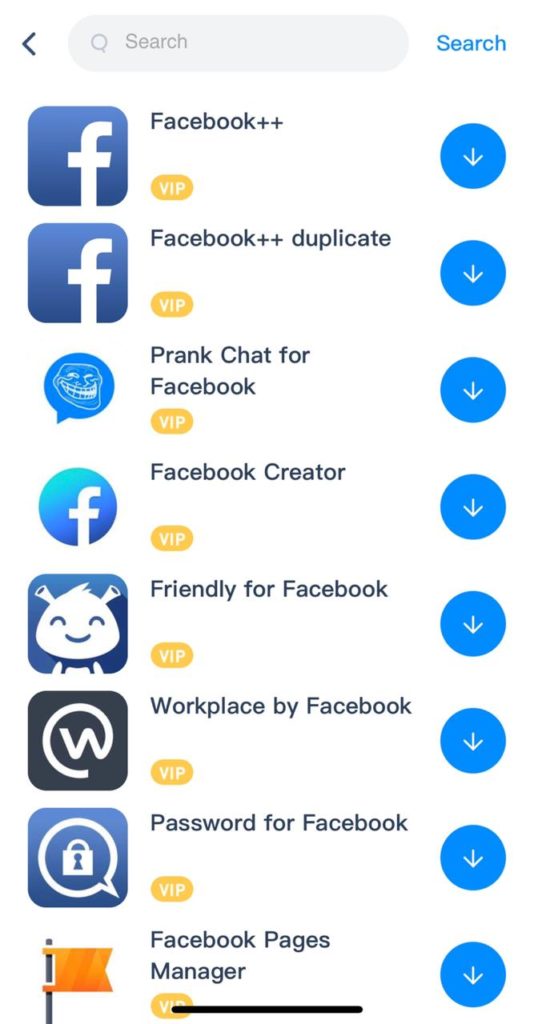 Your iPhone/iPad will pop up a warning stating that TutuApp wants to install Facebook++ on your iOS device. You require tapping on Allow or Install to continue with the process.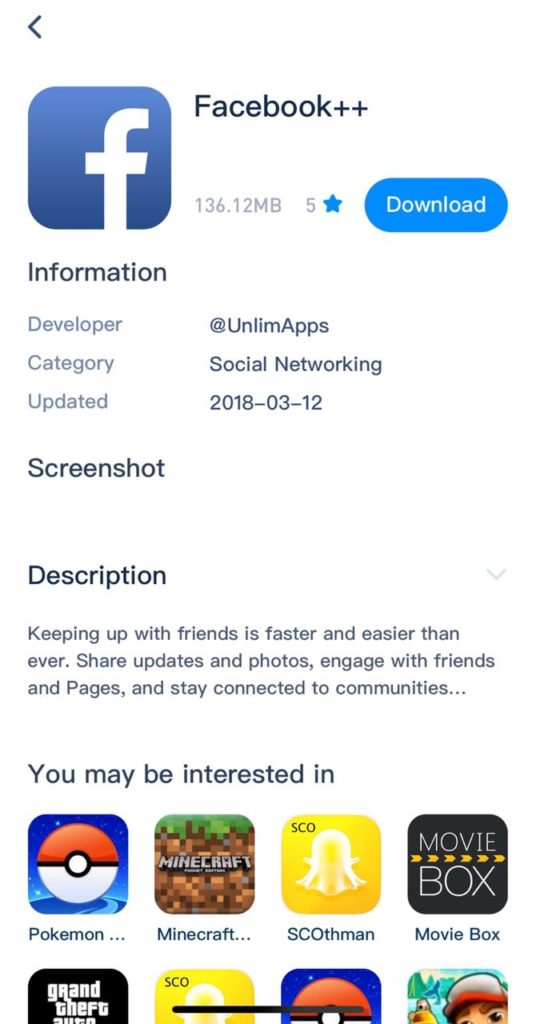 After successful installation, make sure you trust the profile of Facebook++ from Settings > General > Profiles & Device Management.
That's it! Facebook++ is install on your iOS device now. You will have the icon ready on the home screen. Tap on the same and login with your Facebook creds to enjoy the tweaked experience
Facebook Alternatives on iOS
Facebook is really one of the most old school social media website available on internet. The platform is famous for its availability, but as it is considerably used for socializing, people are searching for some more options. So we have catered a lot of alternatives for Facebook on iOS device.
Instagram
Instagram is owned by Facebook and yet has a great unique database of users. People love using Instagram for its simple user-interface that is elegant yet simple. So if you want a perfect alternative, Instagram is your choice.
TikTok
TikTok has taken trend in the recent days. The application allows you to post several short videos that will help you enjoy snoring around with followers enjoying your content.
Pinterest
Pinterest allows you to explore unique and new stuff every now and then. So if you are a fan of images and videos that gives you a lot of good ideas to explore, then Pinterest is your one time stop.
Reddit
Reddit is the second name of addiction. People love using Reddit for all the exploration features that filters content as per your interest. It is one great alternative for Facebook available on iOS.
Frequently Asked Questions 
Q – Is jailbreak mandatory for installing Facebook++?
You don't require a jailbroken iPhone/iPad to install and use Facebook++.
Q – Can I install Facebook++ with the original version of the app?
No! You require uninstalling the App Store version of Facebook to install Facebook++.
Q – Can I send unlimited number of photos via Messenger on Facebook++?
Yes! The internal messenger of Facebook++ allows you to send an unlimited number of photos. You can even disable VoIP and view the timestamp for each and every text.
Q - Does Facebook++ show Ads?
This is one of the most frequent questions asked by our visitors and Nope, it won't show any ads in between the usage.
Final Words – Facebook++ Download on iOS using TutuApp
Enjoy the upgraded experience of Facebook with the Facebook++ app on iOS. Let us know your thoughts on Facebook++ and what more features you want in the tweaked version via the comments section provided below.